Invisalign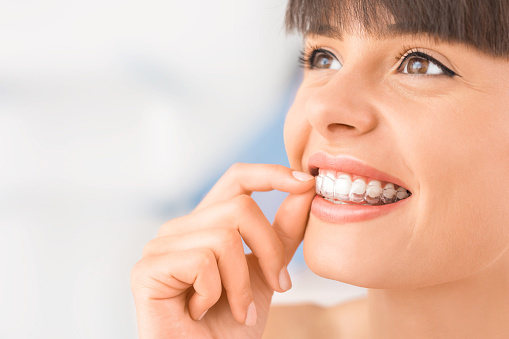 Invisalign aligners are an alternative option to braces. They are clear aligners that, similarly to braces, apply incremental force on the teeth. However, Invisalign aligners are removable and made of plastic-like material and may fit around your teeth more comfortably. Raleigh Family Orthodontics is here to answer any questions you may have about choosing Invisalign.


How Do Invisalign Aligners Work?

The Invisalign treatment starts with a 3D scan to quickly and reliably take precise imaging of your teeth. This scan allows us to create a custom plan that includes different sets of clear aligners as your treatment progresses. The plan begins with your initial aligner set made of SmartTrack© material, specifically designed to fit the current state of your teeth very comfortably. The shape of the aligner changes slightly from set to set to gradually shift your teeth.

You will wear your Invisalign aligners from 20-22 hours a day to reach optimal effectiveness. Every 10-12 weeks, we ask you to come into our office for one of our professionals to monitor your progress.


How Are Invisalign Aligners Different Than Braces?

Invisalign aligners are entirely transparent. This is the main difference between traditional metal braces and the Invisalign treatment. With Invisalign, there is little to no guesswork, as each of your sets are made in reference to the 3D model taken of your teeth. There is no tightening of wires and braces during trips to the orthodontist. The Invisalign treatment includes removable appliances, so it is much easier for you to both brush and floss your teeth after meals. Invisalign aligners are intended to be comfortable. Furthermore, they are easier to keep clean, have a more comfortable fit on your teeth and in your mouth, and are less likely to cause irritation in your gums and cheeks. Clear aligners can also help prevent the wearing of teeth that grinding can cause.

It is difficult to be certain how long the Invisalign process will take in comparison to traditional braces; because every mouth is different and complex, your treatment plan length will depend on the severity and complexity of your oral issue.


Who Should Use Invisalign?

Certain patients may be discouraged by traditional braces due to their appearance. Please reach out to Raleigh Family Orthodontics at (984) 254-0585 to make a consultation and see whether Invisalign is the right option for you.