Clear Braces Raleigh NC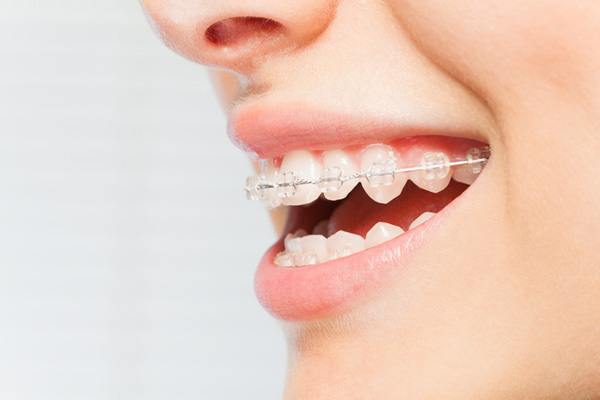 Raleigh Family Orthodontics knows that our patients, especially professional adults, want orthodontic options that have only a minimal impact on their everyday lives. One option that many of our patient's love is clear braces, also called ceramic braces.


What Are Clear Braces?

The main difference between clear braces and traditional metal braces is the material and the color of the brackets and wires. The brackets are, of course, ceramic, which can be either clear or the same hue as your teeth.

The wire will still be made of metal, but Dr. Neill and

Dr. Lee

can color it so that, like the brackets, it also blends right into your teeth. While ceramic braces are not completely invisible, they are a lot harder to spot.


How Do Clear Braces Work?

In most ways, ceramic braces are like traditional stainless-steel braces. There are brackets and wires that work together to gently guide your teeth into alignment.


Benefits of Clear Braces

The subtlety of clear braces is their main benefit, but there are also a few other advantages they have over traditional metal braces.

Ceramic braces offer a middle ground. While they are not quite as powerful as metal braces, they are still stronger than clear aligners. Ceramic braces are also our most comfortable orthodontic option.


Are Clear Braces Right for Me?

Ceramic braces can help you best if you are an adult with mild to moderate orthodontic problems.

Because ceramic braces are not as strong as metal braces, they are not recommended for our Raleigh area patients whose jaws are still growing (children), or who have severe orthodontic issues.

Their fragility also makes them poorly suited to anyone who can expect physical impacts to the face, such as those who engage in contact sports like football.


Clear Braces vs. Traditional Braces

Ceramic braces do have their drawbacks which should be carefully considered. The biggest issue is their relative fragility. Modern dental ceramic is pretty tough and not prone to breaking, but nonetheless the chance of ceramic braces getting damaged is over twice as much as their metal counterparts.

If ceramic braces break this can result in a prolonged treatment, especially if you are not able to come in right away. Ceramic also stains more easily than metal, as do the elastic bands used.


Advantages of Clear Braces

Clear braces use the basic braces principles with regard to treatment but because they can be clear in color, they are less obtrusive and far less noticeable than traditional braces.

Obviously, one of the biggest benefits is they are far less noticeable than traditional braces. The ceramic material can be clear or, in fact, tinted to match the existing color of the patient's teeth to allow them to better blend. Ceramic braces also take less time to reach the patient's orthodontic goals. The average length of time wearing ceramic braces is 18 to 36 months.


Advantages of Traditional Braces

Traditional braces tend to be stronger and more durable than ceramic braces, as the metal is more resilient. Traditional braces also tend to be slightly less expensive than ceramic braces.


Clear Braces Procedure

Braces can correct any number of problems from misaligned jaws to crooked teeth. The success of these treatments widely depends upon how invested the patient is in their treatment goals while also following all the guidelines from our orthodontists regarding proper care.


Initial Consultation and Examination

If you are interested in getting clear braces, we will first have you come in to see us at Raleigh Family Orthodontics for a consultation. We will examine your teeth and mouth, to determine if clear braces will be right for you.


Impressions and Customization

We will take x-rays of your teeth and jaw, examine your gums, and take any other necessary scans of your mouth before we begin the orthodontia process. We will perform a dental cleaning, and let you know if there is any other treatment we suggest before you come back in to have your braces placed.


Placement of Clear Braces

While braces incorporate several different kinds of appliances, clear braces, like traditional braces, are made of wire, but with ceramic brackets. The brackets are bonded to the tooth's surface using adhesive. These are applied by an orthodontist who specializes in these treatments. They also make adjustments during the course of treatment.


Adjustments and Progress Check-ups

You can expect that, on average, your treatment will be a little bit longer than with metal braces. You will also have to schedule more frequent appointments, as ceramic braces lack the sturdiness of steel and may break more frequently. Missing appointments can extend treatment time, so if you have a busy or unpredictable schedule you may want a more hands-off option, like clear aligners.


Aftercare for Clear Braces

The glue used for clear braces is much stronger to hold the brackets in place and in some cases, once the treatment is completed and the brackets removed, this adhesive has been known to stain tooth enamel. If this occurs, see our orthodontist, for appropriate treatment.

You will need to wear a retainer after your orthodontic treatment, to ensure your newly aligned teeth stay in place.


Oral Hygiene with Clear Braces

The size of the brackets used in ceramic braces is considerably larger than those used in traditional treatment. It can make brushing and flossing more complicated in that they take up more room and are harder to brush and floss around. Be sure to be diligent in your oral hygiene with braces.


Dietary Considerations

Wearing ceramic braces is a lot like wearing metal braces, with similar dietary restrictions. You should avoid foods that are sticky or chewy, and avoid biting into hard foods such as apples or corn on the cob, which could damage your braces.


Dealing with Discomfort

Clear braces can irritate the gums and inside of the cheek more readily than traditional treatments, since the brackets are bigger. Swollen and receding gums are not uncommon because the teeth and gums are harder to reach with a standard brush. Make sure you use the appropriate size toothbrush, as recommended by our orthodontist.


Are You Interested in Clear Braces?

If you are interested in how ceramic braces can correct your smile without getting in the way, then Raleigh Family Orthodontics has all the information you need. To learn more, call (984) 254-0585.