Traditional Braces Raleigh NC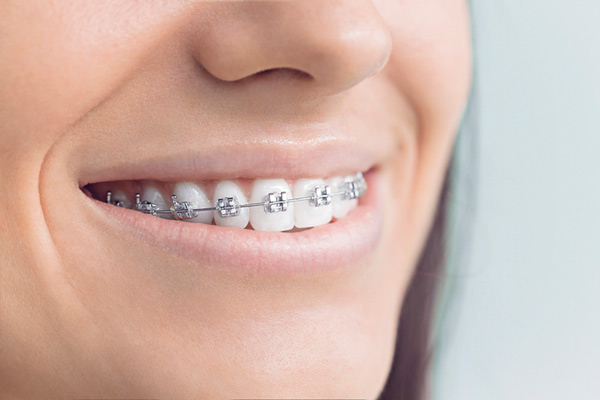 Braces are the most common option when considering orthodontic treatment, especially for adolescent care. They work by straightening any misalignments. These misalignments, or malocclusions, can be influenced by losing baby teeth too soon, accidents, or habits like thumb sucking.

Likewise, misalignment can be genetically inherited, so if you or someone in your family need braces, it's likely that your kids will, too. While most often you will see children or teens wearing braces, they are also an accepted form of treatment for adults.

At Raleigh Family Orthodontics, we are to answer any questions you may have about braces. You will be in great hands with Dr. Hunter Neill and Dr. Han Lee.


What Do Traditional Braces Look Like?

Traditional braces are made of metal and they are placed on your teeth.

Some types of traditional braces include brackets that are placed on the front of your teeth using an adhesive, and others utilize bands that fit around each tooth. All braces include flexible wires or arch wires, and some braces also require rubber bands or metal ties.

Sometimes, appliances called ceramic braces can be transparent or semi-transparent in order to appear the same color as your teeth. Because ceramic brace material is a bit more fragile, it may take more gradual adjustments and demand a longer wear. Furthermore, they require meticulous oral hygiene in order to remove stains that could accumulate from coffee, tea, dark wines, or smoking.


How Do Traditional Braces Work?

There are several important features to keep in mind when considering or caring for traditional metal braces:


| | |
| --- | --- |
| • | The brackets or bands in braces are there to be the "anchor" of the teeth - they adhere to the teeth while flexible wires or arch wires hold the brackets or bands together, applying pressure to slowly guide teeth into proper alignment. |
| • | When rubber bands or metal ties are used, they link the brackets to the wire, which creates pressure to help straighten and align your teeth. |
| • | During orthodontist visits, we will periodically tighten your braces so steady pressure can straighten your teeth gradually, all the while aligning your jaw. |
| • | If your underbite or overbite is severe, our doctors will have you wear a device called headgear at night, to redirect or guide your jaw growth while patients are in development phase. Unlike braces, this appliance is removable. |
How Do I Care for My Braces?

Since traditional braces involve many different small parts, food can get stuck in them more easily than without them. It's very important to be more meticulous when brushing your teeth, because food that hasn't been dislodged from your braces and teeth can leave stains and can increase your risk of developing cavities.

In order to maintain your optimal oral health, there are certain foods you should not eat while you have braces, like popcorn, hard and sticky candy, and gum. These foods can break or damage parts of the braces, and you may experience discomfort while trying to eat these foods.


Braces Are Available at Your Raleigh Orthodontist!

If there are any further questions you may have about caring for your braces, you can call our office at (984) 254-0585 and speak with one of our doctors. If you have any concerns about caring for your braces, we assure you that our team's goal is to tailor your treatment to you, and we will monitor the process and answer your questions along the way.

If you have questions about whether you need braces, schedule a consultation appointment with us here at Raleigh Family Orthodontics. We are here to help!