Aligners Vs. Braces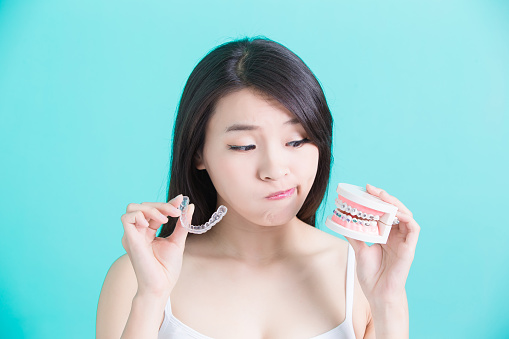 Usually, the first question that people have when it comes to consulting an Orthodontist is "aligners or braces?" This decision typically is not one that you can make on your own, as each appliance works best for specific cases. Please call Raleigh Family Orthodontics to schedule a consultation appointment with our doctors to make any serious decisions about your treatment plans and commitments to any treatments.


Benefits of Choosing Aligners

Clear aligners are increasingly popular with adults and even teens and children since coming out in 2000. They are a completely legitimate option for correcting your misalignments, if they are prescribed and monitored as a part of your treatment plan with one of our professionals.

Aligners are designed to be invisible, to provide a guise that there are no aligners. This feature can come in handy for adults, as braces can often be misconstrued as an appliance exclusively for children and teens. Aligners are made of smooth, BPA-free plastic that is designed to be easily removable and comfortable within your mouth. They subtly and gently work to move teeth into place using multiple sets of uniquely-made trays, so no tightening of wires has to happen with this treatment. These unique trays are created using x-ray imaging, pictures, and 3D scan in order to be as precise to your alignment as possible. Treatment using this appliance is incredibly personalized, so you don't have to worry about it not working for you.


Caring For Aligners

Unlike braces, which cannot be removed, aligners are worn for 20-22 hours per day for anywhere around 6 months to 36 months, all depending on the individual patient's need. Aligners must be removed before eating or drinking anything besides water, and, when not in use, aligners should be thoroughly cleaned in addition to your regular oral cleanliness habits. Oral hygiene is sensitive when it comes to clear aligners, so we urge that you brush your teeth after every meal to avoid residue that can cause staining.

You will need to change your aligners out about every 2 weeks to stay on track with your treatment plan, and follow up with our office about every 10 to 12 weeks for our doctors to monitor your progress.

Clear aligners are not typically for patients who need bridgework, have back tooth bite issues, need to rotate canines or premolars, need to move teeth vertically, or lack the discipline to keep the trays in for at least 22 hours daily. You can consult one of our professionals if you have further questions about these issues and correcting them.


Benefits of Choosing Braces

Braces can be more effective for some complex and severe issues. As opposed to the clear plastic from which aligners are made, braces consist of metal brackets glued to your teeth, metal wires, and sometimes rubber bands to apply extra pressure. Although they do not come with the benefit of transparency, they can be prescribed in many different, more exciting colors. If you desire a more subtle look, braces can also now come in colors that more closely match your teeth color.


Caring for Braces

Braces are placed on your teeth until they come off, and worn 24/7 for around 2 years, so there is no worry of "forgetting" to put in appliances, and you can be sure they are working in the way they were meant to, even if you are forgetful. Maintaining oral health while wearing braces is important, and you should still brush and floss as normal. Without maintaining consistent, proper oral health, there is a risk your braces could exacerbate tooth discoloration as buildup can occur over time. Furthermore, eating sticky, hard foods and candies can be difficult while you have braces, so you may need to reduce your consumption of these types of foods and make sure you brush and floss thoroughly afterwards.


Who Should Not Use Traditional Braces?

Since braces are made of metal, they come with a higher risk of injuries within your mouth. People who are regularly involved in rough contact sports may be at higher risk of orthodontic emergencies while using braces. You can take precautions like wearing a mouthguard during physical activity in order to reduce your risk of injury.

You should follow up with our office monthly to monitor your progression through treatment, and during these visits we will make any alterations to your plan as needed. For more information regarding the differences between aligners and braces and which treatment is better for your optimal oral health, please schedule an appointment with Raleigh Family Orthodontics at (984) 254-0585. We look forward to hearing from you!